Featured Books by The Chapel Store
Building a library with quality Bibles, Commentaries and Christian books is a MUST for the serious and maturing Christian. Every other month we will feature various books that are of the highest value to assist believers in their spiritual pursuit. In addition, we will feature books that help develop a Christian world view regarding current issues we believe every Christian should be aware of. Finally, we highlight books that will encourage believers in their walk with the Lord through insightful perspectives on various topics that are of interest to maturing believers.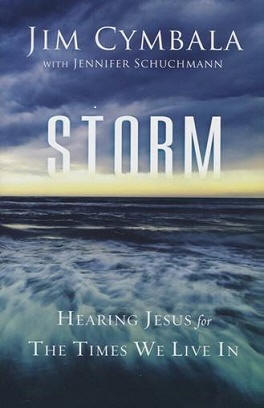 By Jim Cymbala
Storm: What Jesus Is Saying to His Church is a book for every Christian who is concerned about the challenges that face believers today. Using powerful stories of people who have been transformed by Christ, it will strike a note of encouragement and hope, helping Christians to remember that a life surrendered to Christ in the midst of a church transformed by his presence cannot be defeated. No amount of spiritual darkness or cultural pressure can drown out the life-giving power of the gospel. Jim Cymbala believes that the church in America is in the middle of a powerful storm, the intensity of which is likely to increase in coming months and years. Many Christians are bewildered, disheartened, and concerned by what they see---a culture that's become increasingly hostile to biblical Christianity and a church whose vital signs are quickly waning. Like the storm surge that overtook lower Manhattan during Hurricane Sandy, powerful forces have come together to create a surge that's threatening the health of the church. Storm will talk about the tendency on the right and on the left to conflate the kingdom of God with a particular political party. Many conservative Christians have made the mistake of substituting America for the Israel of the Old Testament, failing to realize the danger of adopting Old Testament principles that were never affirmed in the New Testament. Their message has sometimes been harsh and legalistic, making it difficult for them to proclaim a gospel of grace. Even though there is a great deal of emphasis on the Bible in such churches, it can often be the wrong emphasis. Jim Cymbala will explore the importance of preaching a gospel of grace rather than a gospel of mixed messages, so common in the church today. He will speak of our need to understand spiritual battles and for total dependence on the Holy Spirit, and he will discuss the importance of prayer. He will also explore the motivational atmosphere of the early church which flourished despite far worse conditions than those we face today. We don't need more church growth programs to turn the church around. What's needed is a transformation at the heart of the church so that the gospel is preached, the Holy Spirit is allowed to lead, and lives are transformed.
By Joel Rosenberg
When New York Times foreign correspondent J. B. Collins hears rumors that an al-Qaeda splinter cell has captured a cache of chemical weapons inside Syria, he knows this is a story he must pursue at all costs. Does the commander of the jihadist faction really have the weapons? If so, who is the intended target? The U.S.? Israel? Or could it be Jordan?
With tensions already high, the impending visit of the American president to the region could prove to be the spark that sets off an explosion of horrendous proportions. Knowing that terrorist forces have already toppled two regimes in the region, can Collins uncover the truth before it's too late? Or will the terrorists succeed in setting their sights on the third and final target?

By Laura Hillebrand
In boyhood, Louis Zamperini was an incorrigible delinquent. As a teenager, he channeled his defiance into running, discovering a prodigious talent that had carried him to the Berlin Olympics. But when World War II began, the athlete became an airman, embarking on a journey that led to a doomed flight on a May afternoon in 1943. When his Army Air Forces bomber crashed into the Pacific Ocean, against all odds, Zamperini survived, adrift on a foundering life raft. Ahead of Zamperini lay thousands of miles of open ocean, leaping sharks, thirst and starvation, enemy aircraft, and, beyond, a trial even greater. Driven to the limits of endurance, Zamperini would answer desperation with ingenuity; suffering with hope, resolve, and humor; brutality with rebellion. His fate, whether triumph or tragedy, would be suspended on the fraying wire of his will.
Unbroken is an unforgettable testament to the resilience of the human mind, body, and spirit, brought vividly to life by author Laura Hillenbrand.
.
By Norm Geisler and William Roach
The doctrine of inerrancy has been taught for a millennium. Now, it's at risk.
Leading apologist and bestselling author Norman L. Geisler, who was one of the original drafters of the "Chicago Statement on Biblical Inerrancy," and his coauthor, William C. Roach, present here a defense of the traditional understanding of inerrancy for a new generation of Christians who are being assaulted with challenges to the nature of God, truth, and language.
.